"We will be able to be at peace. We won't have to worry about having to move."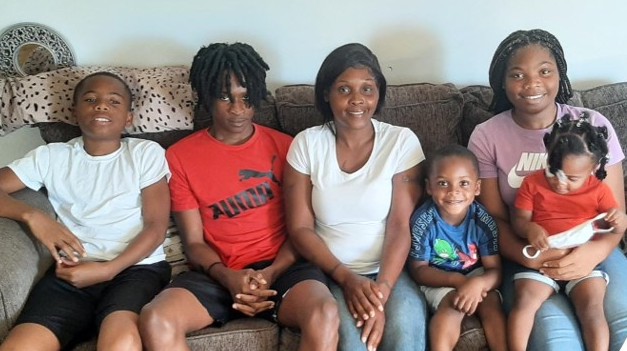 April, a native of Green Sea, is the proud mother of five children – Dayshawn, Ashauna, Dashaun, Gicen and Jiyana. She joined the Habitat homebuyer program in the Fall of 2021. She is employed by McLeod Loris Seacoast Hospital. She applied to the program because she wanted to provide a better home for her kids and herself. April would like to provide her family with a comfortable home they can call their own.
Owning a home will "bring much joy to my babies," states April. "We will be able to be at peace. We won't have to worry about having to move." Her children love to play basketball and watch movies, both of which will be so much more enjoyable in a home of their very own.
April has experienced the highs and lows of life, like many families. While she's dealt with financial burdens, her time in the Habitat Homebuyer Program is teaching her more and more about becoming financially stable and independent. "So far, I have learned that it is a process and you've got to have patience," explains April. Her patience and perseverance have paid off. She's successfully working through the program while also working at a job she loves where she feels like she is helping others. Completely sweat equity hours has also taught her new skills, allowing for even more independence. "I've enjoyed learning how to put vinyl siding on a house," says April. "At first, I was nervous….but the guys there [site leaders] are very helpful and will teach you every step of the way."
The first thing April plans to do in her new home is to have her home prayed over and anointed. Her favorite Bible verse exemplifies her reliance on the Word. "I can do all this through Him who gives me strength." – Philippians 4:13 (NIV) As is stated at each home dedication, a home built on a foundation of God is guaranteed to be a stable, secure, and happy one. So, for April, her home will truly be her "happy place". And a well-deserved happy place it certainly will be for her entire family.