"this will be our forever home"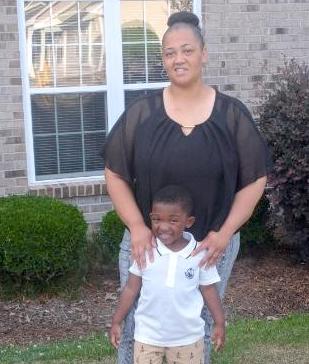 For Sheprell, becoming a homeowner will be something she can add to her list of achievements, along with the completion of her associate degree, and the birth of her son, Mekhai.
A native of Conway, Sheprell joined the Habitat Homebuyer Program the Fall of 2021. She learned about the program through a local Habitat homeowner. "I always dreamed of becoming a homeowner and thought I would give it a try," states Sheprell. "I desired to build my own house and help others with their home as well." Since joining the program, Sheprell has learned a lot of new skills that will prepare her for homeownership. Through her sweat equity hours, she's even learned how to install flooring.
Sheprell feels that becoming a homeowner will make a positive impact on her life, as well as her son's. To her, home means comfort, love, peace and security. Her home will be a place where her family can make lasting memories. She looks forward to the day that she moves into her new home, where she'll have freedom to decorate how she chooses without any of the restrictions of a rental. "This will be our forever home" Sheprell says, "so why not make it look and feel that way!"