Owning a home will "bring stability to me and my boys".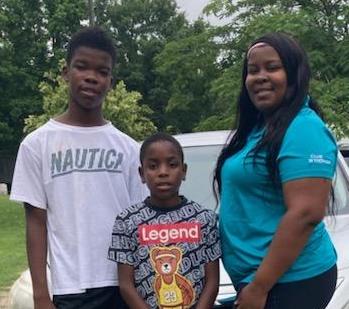 Onisha is a native of the Poplar community in Longs. She is the proud mother of two sons, Zykail and Jasaun. She joined the Habitat homebuyer program in the Fall of 2021. She has worked for a local resort as a PBX operator for the last three years.
Onisha applied to the program because she felt that Habitat was her opportunity to finally own her very own home. After years of rent payments and being unable to purchase a home on the open market, Habitat is a perfect fit for Onisha's needs.
Owning a home will "bring stability to me and my boys," states Onisha. "Not only that, but it will teach us that we can get anything in life as long as we try." Through her life experiences, Onisha knows the importance of patience and perseverance.
To Onisha, the opportunity to provide a safe and stable home for her boys will be key. Onisha currently rents in a neighborhood where she does not feel safe. Providing security through a new Habitat home will make a huge difference in the lives of everyone in her family.
Raised by her grandmother and her aunt, motherhood and faith hold even more importance in Onisha's life. Having experienced many personal trials and tribulations, she has kept God at the center of her life, never giving up hope.
Onisha's positive outlook is helping her to work through the Homebuyer Program with ease and determination. Already, she has learned how to install vinyl siding and other important skills during the construction of her and other homebuyers' homes.
As she works through the program, Onisha keeps family at the top of her list of priorities. Through good times and difficult times, her family is there to support her. This includes her new Habitat family of volunteers and supporters.
To Onisha, home is a place to live and enjoy life to its fullest. It's a place to feel safe.