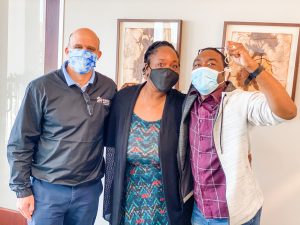 Shannon and Terry are originally from Lake City, SC. Shannon works in retail and Terry is employed in the entertainment industry and is a talented DJ.
The couple joined the program so that they could become homeowners, a goal they've had since becoming husband and wife. They look forward to spending time with their families in their new home, and accomplishing financial stability.
"The journey is what you make it out to be," says Shannon. "We have obtained a lot of mental, spiritual and financial information on how to own a home. We have truly enjoyed this experience, giving back to others and meeting so many awesome volunteers that have the same goal in mind."
To the Greggs, their new home will be their sanctuary. They're place of "heavenly peace" they like to say. During this holiday season, we're reminded of "heavenly peace" through the cherished Silent Night hymn. What a joy it will be for the Gregg family to be home for the holidays and finally be able to "sleep in heavenly peace", under a roof of their very own.